The web3.storage team will be in Lisbon Oct 28 - Nov 2, 2022. If you are interested in learning more about web3.storage, IPFS, or any related topics, come by and say hi!
We'll be at the following events.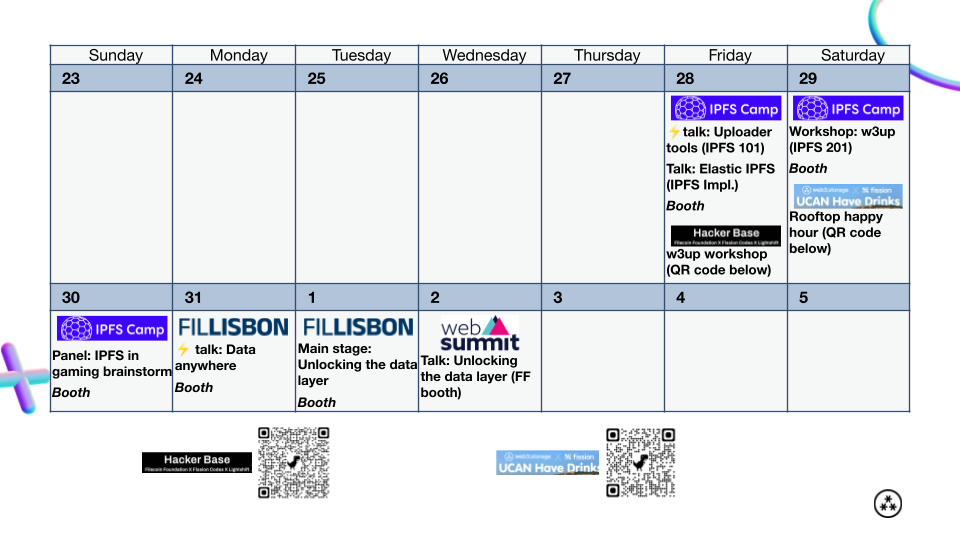 IPFS Camp: Oct 28 - 30
After a 3+ year hiatus, the extremely popular IPFS Camp is back! We'll have a strong presence across mutliple event tracks, so if you are there, let's connect!
Catch us at the following:
(Oct 28-30) web3.storage booth, where you can chat with our team
(Oct 28) A lightning talk during the IPFS 101 track on our easy-to-use uploader tools like w3up CLI
(Oct 28) A talk during the IPFS Implementers track on Elastic IPFS, and more generally how we use CAR files over HTTP to scale our IPFS infrastructure performantly
(Oct 29) An in-depth workshop during the IPFS 201 track on w3up, and how you can take advantage of IPFS and UCANs to build any application architecture you can dream of, including more serverless and user-centric apps
(Oct 30) A panel our team is leading on gaming during the Gaming track, and how IPFS can be used for areas like deduplication, offline use cases, and security
You can buy a ticket here, or view the schedule here.
Filecoin Foundation x Fission x Lightspace Hacker Base: Oct 28
Need a place to work while visiting Lisbon? You can sign up for corworking space in the Filecoin Foundation x Fission x Lightspace Hacker Base here. The coworking space runs from Tues Oct 25 to Nov 4, but web3.storage will be there throwing a two hour workshop on w3up (and how it uses Fission's UCANs) on Oct 28 from 10:00-12:00 GMT+1. Get hands-on experience on storing data on the decentralized web using verifiable data and auth protocols!
Rooftop Happy Hour - UCAN Have Drinks: Oct 29
After a long week of learning, come hang out and have a beverage at a rooftop happy hour hosted by web3.storage and Fission! It goes from 18:00-20:00 GMT+1 on the rooftop of The Art Inn on Oct 29. Sign up here.
FIL Lisbon: Oct 31 - Nov 1
FIL Lisbon is an event centered on the Filecoin decentralized storage network. Learn about the largest decentralized storage network, the exiting things on its roadmap, and how it fits into web3.storage's vision!
(Oct 31 - Nov 1) web3.storage booth, where you can chat with our team
(Oct 31) Lightning talk on how web3.storage enables applications with "data anywhere" - locally, on peers, or in the cloud
(Nov 1) Talk on the mainstage at 16:00 GMT+1 about the vision of web3.storage, and the role Filecoin plays in it to eventually offer the cheapest cold storage on the market for developers
You can register here (it's free!), or view the schedule here.
Web Summit: Nov 2
web3.storage will be at Web Summit on Nov 2! Stop by the Filecoin Foundation booth on Nov 2 at 13:00 GMT+1 to hear about how web3.storage solves problems that most developers, not just web3 devs, face.
See you there!
Can't wait to see you in Lisbon! If you have questions, reach out on the #web3-storage channel on IPFS Discord or contact us @Web3Storage on Twitter.